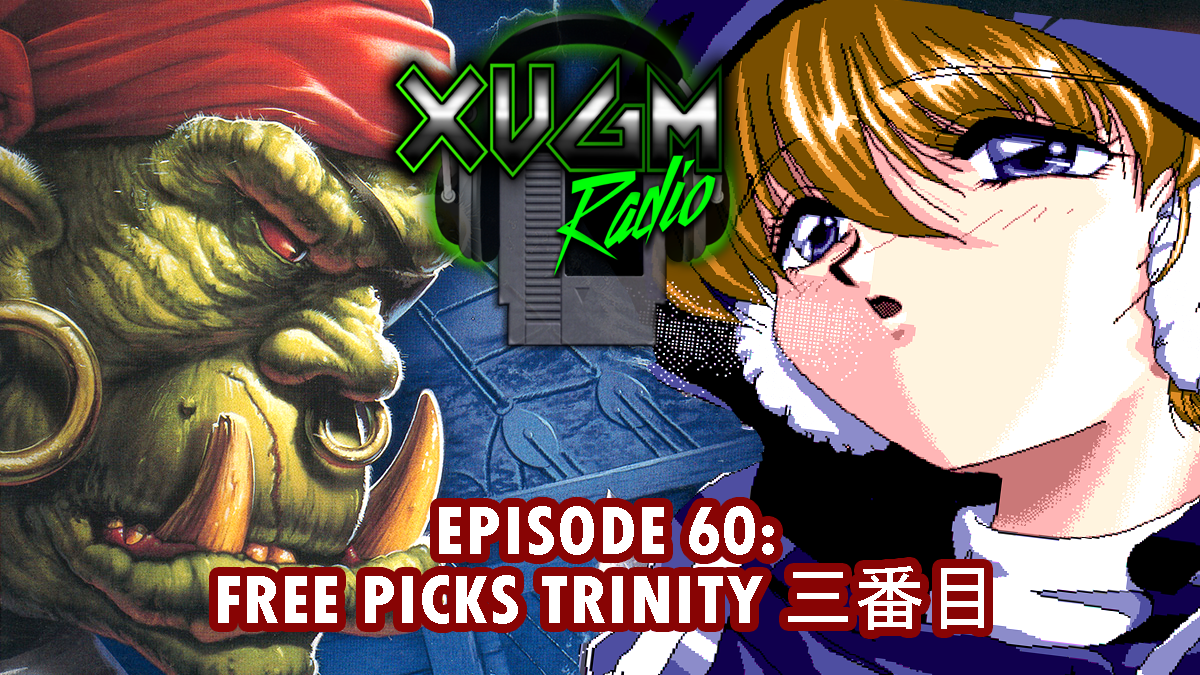 After a bit of a hiatus, the XVGM Radio guys are back to their regular schedule, and what better way to start things off then with a bunch of random tracks?! Every 20 episodes, Mike and Justin flip a coin to decide the order of the next 20 episodes, in addition to playing free picks! On today's episode, we discuss proto-harem anime based games like Ranma ½, get our dance shoes on with a bunch of silly tracks, and ride the train through to end on a smooth jazz track. The genres are all over the place with this episode! From spanish guitar, to disco songs about midevil men…and even….KELSEY GRAMMER?! BAH BAH BAH BAH BAHHHH, I'M LOVIN' XVGM!
We'd love to hear what you thought about our VGM in Motion episode! Did you have a favorite tune? Shoot us an email at XVGMRadio@gmail.com or join in on the discussion at: https://www.facebook.com/groups/XVGMradio
We have a Discord Channel! Join us and chat about the show, share a random or obscure VGM song you love, or just chit chat with Mike and Justin about tacos! Join for free here: https://discord.gg/zWxDYfn
Thanks to all of our wonderful Patrons: Alex Messenger, Cam Werme, Chris Murray, Chris Myers, Chris Hart, Scott McElhone, Jordan & Anson Davis, Llama Adam, Peter Panda, Kung Fu Carlito, Bedroth, Nick Davis, Ryan McPherson, Marques Stewart, MixxMaster, Jason SuperJES Dos, Brad Austin, Muddle MADness, Dan Laughton, Matthew Hannola, Jeremy Rutz and The Autistic Gamer 89. Become a Patron, get cool rewards, and more at http://www.Patreon.com/XVGMRadio
Our Twitter and Instagram are great ways to interact with us! Find us on there under our handle @XVGMRadio
If you're an Apple Podcasts listener, please consider leaving a rating and a review to let us know how we're doing! It also helps with getting the show to show up when others are searching for VGM!
TRACK LISTING:
Intro – Kartia: The World of Fate (PS1, 1998) "Dance of Words" Kenichi Tsuchiya (Battle BGM), Masaki Kurokawa (Event BGM)
1 – Super Dodge Ball(NES, 1988) "Vs Shadow Team" Kazuo Sawa
2 – Ranma 1/2 – Datou, Ganso Musabetsu Kakutou Ryuu! (PC-E CD, 1992) "Final Boss Battle" Atsuhiro Motoyama, Miyuki Takagi, Kayako Maeda, Taku Iwasaki
3 – Don't Starve (PC/PS4, 2013/14) "Summer Jobs – Reign of Giants" Vincent DeVera, Jason Garner
4 – Fall Guys: Ultimate Knockout (PS4, WIN, 2020) "Everybody Falls (Fall Guys Theme)" Jukio Kallio, Daniel Hagström
5 – Warcraft II: Beyond the Dark Portal (DOS/MacOS, 1996) "I'm a Medieval Man" Glenn Stafford
6 – Wings of Wor (GEN, 1991) "Round 1-1" Noriyuki Iwadare, Akie Oba
7 – My Hero One's Justice (Switch/PS4/XBone/Win, 2018) "Track 22" Design Wave Co. Ltd., Masato Kouda, Kento Hasegawa
8 – Black Bird (ToriTachi no Tooboe) (PC-98, 1995) "Howl of Crow" Takeaki Watanabe
9 – Loom (MacOS/DOS/Amiga/AtariST, 1990) "Main Theme" George Sanger
10 – Conduct Together (Mobile/MAC 2016, WIN, 2017, Switch, 2018) "On Board" Simon Kolle
Podcast: Play in new window | Download