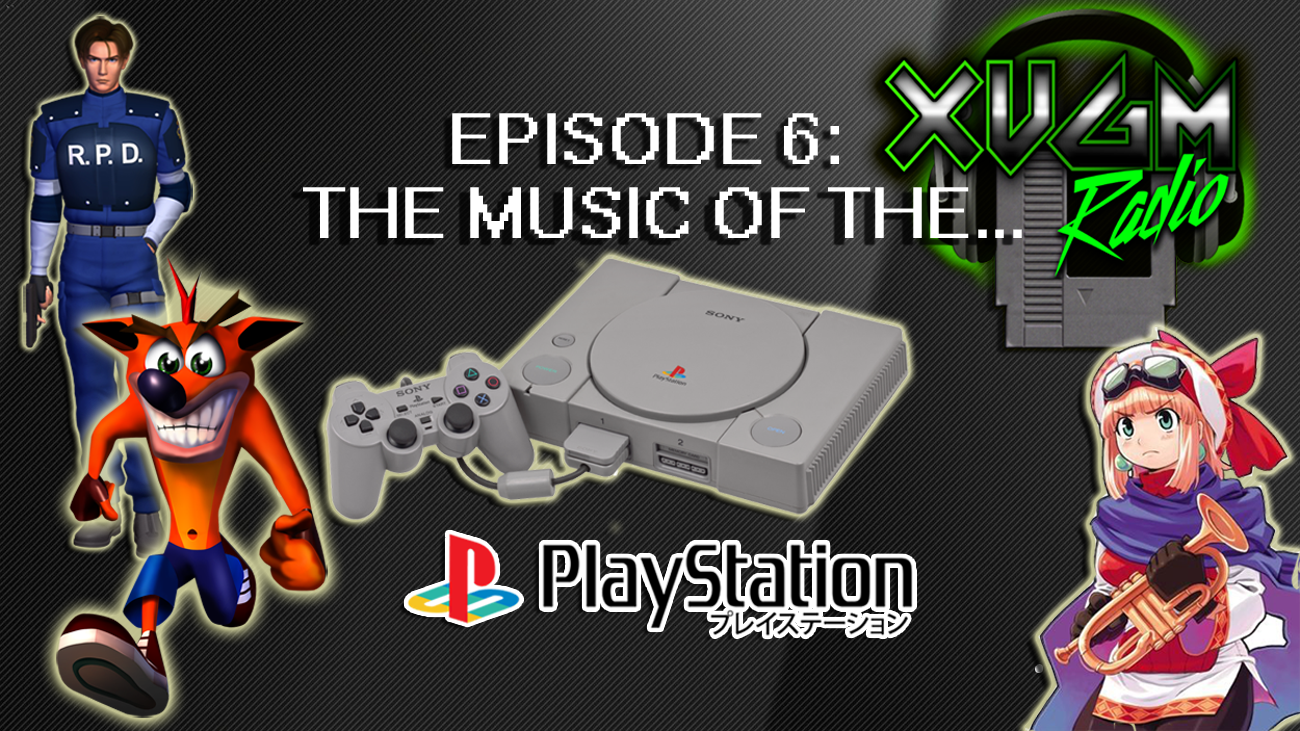 U R NOT READY….er… E (some of you will see it and get it)…..but you will be after listening to these blasts from the 32-bit past! The first Sony Playstation (Also known as the PSOne or PS1,) had some of the greatest games to have been released during its generation, and with those stellar titles came music that would capture our hearts and engage our senses into overload. Mike and Justin help you return to the mid to late 90s with 10 tracks full of well known as well as obscure PS1 video game music to help you relive the days of turning your systems upside down when the discs read error popped up.
We also want to thank the early adopters of our recently announced Patreon page! Get tons of cool rewards and help support the show! www.Patreon.com/XVGMRadio
Check us out at XVGMRadio.com for every episode to date!
Subscribe to us there, or on iTunes! Make sure to give us a rating a review and let us know what you think of the show!
Get further access to a great community of XVGM Fans with the XVGM Radio Facebook Group! www.facebook.com/groups/XVGMRadio
Our Twitter and Instagram handles are: @XVGM Radio Add us on there!
Track Listing:
Intro – Pa Rappa the Rapper (1996) "Chop Chop Master Onion Rap" – Izumi Amano (music director)Tuttle & Dynamo – Electronic group, Yorihisa Suzuki, Kiyoshi Yoshida, Shige Kawagoe, Chris Parks, Ryu Watabe (aka Ryu)
1 – Future Cop L.A.P.D. (1998) "LAX Spaceport" – Dave O' Neal
2 – Ghost in the Shell (1997) "Firecracker" – Mijk Van Dijk
3 – Rising Zan: The Samurai Gunman (1999) "Invincible Career" – Atsunori Namba, Yoshichika Shimamura
4 – Castlevania SOTN (1997) – "Tragic Prince" – Michiru Yamane
5 – MegaMan X4 (1997) "Jet Stingray" – Toshihiko Horiyama
6 – Crash Bandicoot 2 (1997) – "Crash Dash, Crash Crush, Unbearable Levels" – Mutato Muzika (Mark Mothersbaugh, Josh Mancell)
7 – The Granstream Saga (1997) "Spirit Ruins" – Masanori Hikichi, Miyoko Takaoka, Takako Ochiai, Kohei Tanaka (animation music)
8 – Resident Evil 2 (1998) "Credit of Whole Staff" – Masami Ueda
9 – Rhapsody: A Musical Adventure (1998) "Last Waltz" – Tenpei Sato
10 – Chocobo Racing (1999) – "Mysidia Sky Garden" (FFV Flying Dragon Theme) -(Original track- Nobuo Uematsu) Arrangement by Kenji ito.
Podcast: Play in new window | Download