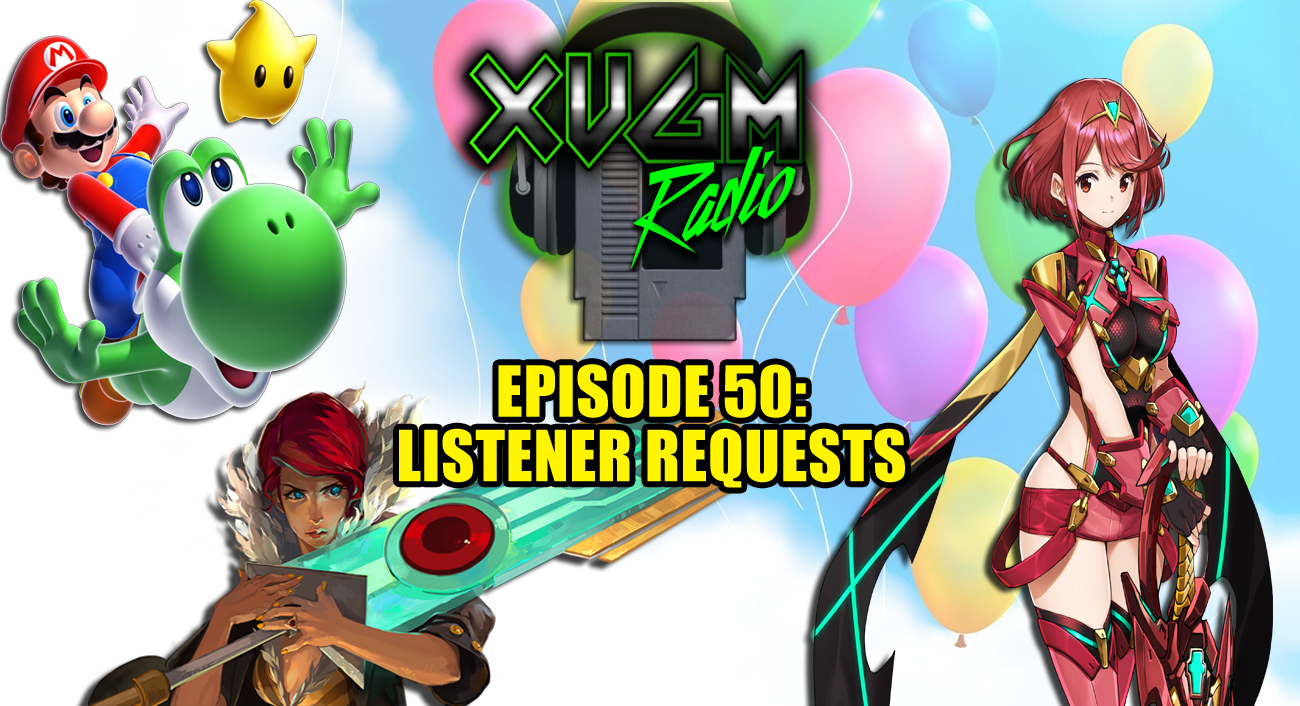 A Podcast is nothing without it's listeners. That's why Episode 50 is both a celebration for us AND a chance to celebrate YOU! We've been advertising this one for a few months now, and thankfully, you guys brought the goods. But instead of picking and choosing which tracks to play, we decided to just play them all! Janine, or favorite sweater and glasses wearin' producer (Who also happens to be a Metroid) rolls the dice to see which of the 13 tracks go where on this epic episode of video game music. Ya'll have great taste! Join us as we also bask in the nostalgia of 4 different commercials we've done for the show for the past (almost) two years!
Big thanks to the listeners who sent us tracks! Thank you to Bedroth, Joel Berube, Nick Chuzas, Dan Laughton, Kevin Lundberg, Mariamaguchi, Scott McElhone, Chris Myers, Chris Murray, Tim Ryan, Sam Thomas, John Sowell, and UtopiaNemo! We literally couldn't have done it without you! 🙂
We'd love to hear what you thought about this celebratory episode! What was your favorite song that fans chose? Shoot us an email at XVGMRadio@gmail.com or join in on the discussion at: https://www.facebook.com/groups/XVGMradio
We have a Discord Channel! Join us and chat about the show, share a random or obscure VGM song you love, or just chit chat with Mike and Justin about tacos! Join for free here: https://discord.gg/zWxDYfn
Thanks to all of our wonderful Patrons: Alex Messenger, Cam Werme, Chris Murray, Chris Myers, Chris Hart, Scott McElhone, Jordan & Anson Davis, Llama Adam, Peter Panda, Kung Fu Carlito, Bedroth, Nick Davis, MixxMaster, Jason SuperJES Dos, Brad Austin, Dan Laughton, Matthew Hannola, Jeremy Rutz and The Autistic Gamer 89. Become a Patron, get cool rewards, and more at http://www.Patreon.com/XVGMRadio
Our Twitter and Instagram are great ways to interact with us! Find us on there under our handle @XVGMRadio
If you're an Apple Podcasts listener, please consider leaving a rating and a review to let us know how we're doing! It also helps with getting the show to show up when others are searching for VGM!
TRACK LISTING:
Intro: Blazing Chrome (Switch, XBONE, PS4, WIN, 2019) "Mission 2-1" Dominic Ninmark, Tiago Santos
1 – X-Men Children of the Atom (ARC/SAT/DOS/PS1, 1994/1995/1997/1999) "Avalon – Magneto's Theme" – Takayuki Iwai, Shun Nishigaki, Hideki Okugawa, Isao Abe
2 – Heavy Nova (MegaCD/GEN/SX68K, 1992/'92) "Rebel Boss 2–1: Garo (SX-D07RR)" – Studio Riverkids, Tosimasa Iijima, Shaka, Naoko [Vocals]
3 – Celeste (Switch/PS4/XBOne/Win, 2018) "Starjump" – Lena Raine
4 – Xenoblade Chronicles 2: Torna ~The Golden Country (Switch, 2018) "Battle!!" – Yasunori Mitsuda, Tomori Kudo (ACE), Hiroyo Yamanaka (ACE), Kenji Hiramatsu (ACE), Manami Kiyota
5 – Cadence of Hyrule (Switch 2019) "Overworld combat" – Danny Baranowsky (original by Minako Hamano, Kozue Ishikawa, Kazumi Totaka, Koji Kondo)
6 – Double Dragon Neon (PS3/XB360/Win, 2012/2014) "End Credits (Dared to Dream)" – Jake Kaufman
7 – Tokyo Mirage Sessions #FE Encore (Wii U, Switch 2016/2020) "Special Battle (Dual Battle)" – Yoshiaki Fujisawa
8 – Transistor (Multi Consoles, PC/Mac, 2014/2018) "We All Become" – Darren Korb, Ashley Barrett (vocals)
9 – Super Mario Galaxy 2 (Wii/WiiU, 2010/2015) "Cloud Court Galaxy (Fluffy Bluff Galaxy?)" – Mahito Yokota, Ryo Nagamatsu, Kōji Kondō
10 – Sky Shark (NES, 1989) "Stage 4" – Tim Follin
11 – Aliens (ARC, 1990) "Stage 3-3" – Masanori Adachi
12 – Lunar: Eternal Blue (SCD, 1995) "Boss Theme/Fierce" – Noriyuki Iwadare
Podcast: Play in new window | Download