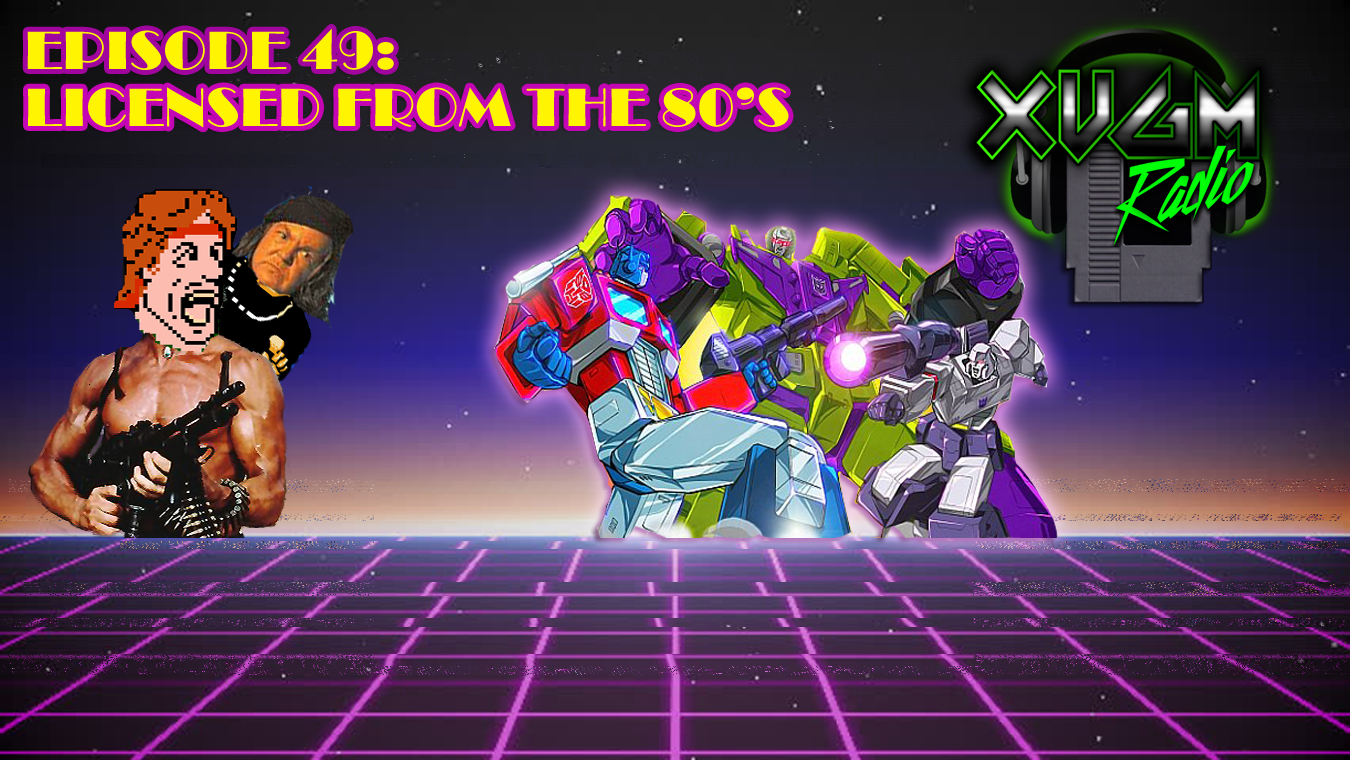 Growing up in the 1980s, Justin and Mike latched onto tons of different IPs in various incarnations. From cartoons to movies and even commercials, the nostalgia of the 80s has never burned brighter for our generation. Even newer generations are looking back at the 1980s for everything from fashion to music. On this week's show, the XVGM boys are listening to music from video games that took their licenses from the 1980s. With a surprising amount of sock hop 50s tunes, synth hits and blazing guitars, there's a wide variety to listen to as Mike and Justin chat about the cartoons, movies, commercials and toys that made them who they are today! Plus, embarrassing stories, not watching the classics, and pizza requests, it's gonna be a tubular audio journey!
*Note: The audio on this episode (regarding Justin's voice) was partly caused by the Stay-At-Home restrictions during the COVID-19 pandemic. We had to scramble in order to record this in time when the restriction was placed. However, we've adjusted how future episodes will sound during this time, so please keep that in mind when listening and note that Episode 50 and beyond will sound much better! Thanks for understanding during this crazy time!*
We'd love to hear what you thought about this nostalgia-fueled 80s-tastic episode. What was your favorite song that we played? Did we miss your favorite franchise? Shoot us an email at XVGMRadio@gmail.com or join in on the discussion at: https://www.facebook.com/groups/XVGMradio
We have a Discord Channel! Join us [insert custom bit here], or just chit chat with Mike and Justin about tacos! Join for free here: https://discord.gg/zWxDYfn
Thanks to all of our wonderful Patrons: Alex Messenger, Cam Werme, Chris Murray, Chris Myers, Chris Hart, Scott McElhone, Jordan & Anson Davis, Llama Adam, Peter Panda, Kung Fu Carlito, Bedroth, Nick Davis, MixxMaster, Jason SuperJES Dos, Brad Austin, Dan Laughton, Matthew Hannola, Jeremy Rutz and The Autistic Gamer 89. Become a Patron, get cool rewards, and more at http://www.Patreon.com/XVGMRadio
Our Twitter and Instagram are great ways to interact with us! Find us on there under our handle @XVGMRadio
If you're an Apple Podcasts listener, please consider leaving a rating and a review to let us know how we're doing! It also helps with getting the show to show up when others are searching for VGM!
TRACK LISTING:
Intro – G.I. Joe: A Real American Hero (Arcade, 1992) "Mission 1-1" Tsutomu Ogura, Kenichiro Fukui
1 – Ghostbusters 2 (NES, 1990) "Driving Music" Mark Van Hecke, Frank Covitz (Sound Consultant)
2 – Akira (FC, 1988) "Track 23" – Toshiko Kawanishi
3 – James Bond: The Duel (GG, SMS, GEN, 1993) "Space Hop" Matt Furniss
Patreon Request: Chris Hart– Yo Noid (NES, 1990) "Level 3 & 4" Masakatsu Maekawa
4 – Back to the Future Part II (Amiga, 1990) "Stage 4: Enchantment Under the Sea" – Alan Silvestri, David Whittaker
5 – Transformers; Devastation (PS3/360/ PS4/XBONE, 2015) "Kickback: Insecticon's Theme" Tetsuya Shibata and Jun Okubo (Unique Note Co. Ltd.)
6 – Platoon (NES, 1988) "Boss" – Naoki Kodaka, Akito Takeuchi
7 – Rambo (NES, 1987) "Mission Theme (Vietnam Jungle)" Toru Hasabe, Minki Motoyama (Special Thanks-Music)
8 – Attack of the Killer Tomatoes (GB, 1992) "BGM 06" – Amy Dyson (as Amy Bamberger), Ed Bogas
9 – Masters of the Universe: The Movie (AM CPC, AST, MSX, ZXS, C64 1987) "Title Theme" Ben Daglish
10 – The Goonies (FC, 1986) "Cavern Theme" – Satoe Terashima
Podcast: Play in new window | Download