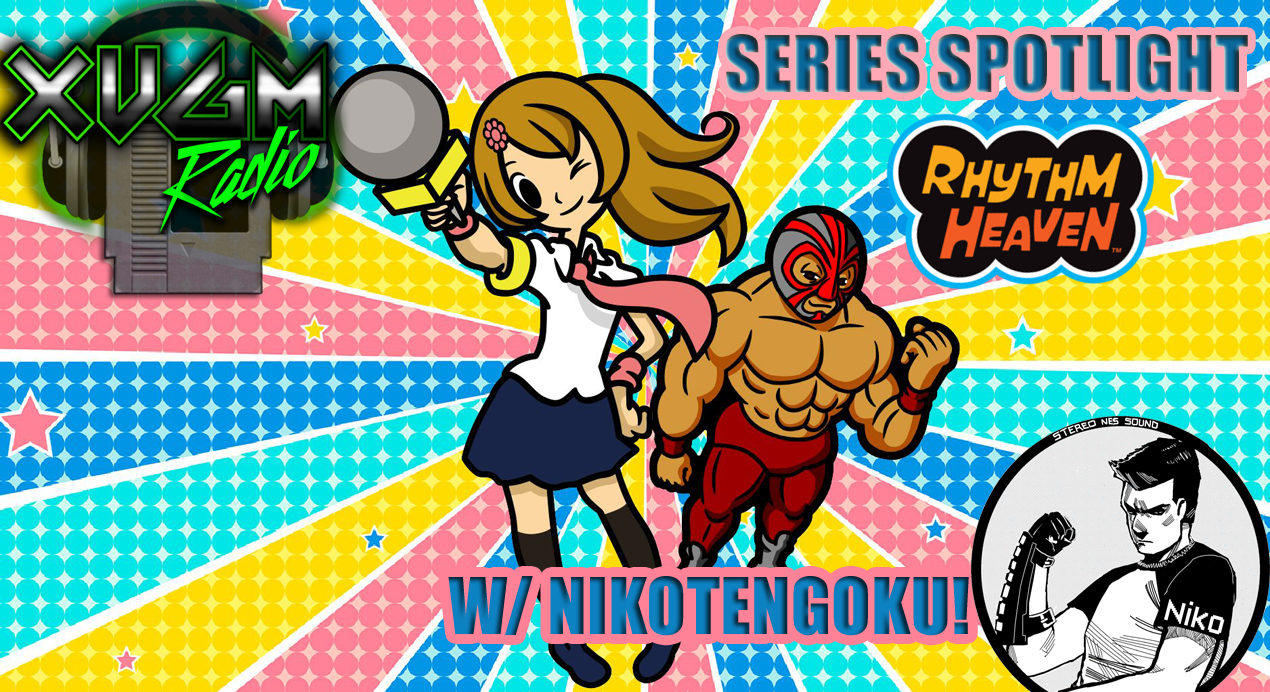 In the mid-2000s, Nintendo threw their rhythm-based games hat into the mix with the Game Boy Advance Japanese exclusive, Rhythm Tengoku. The franchise eventually was brought to other regions of the world, and with it, a smorgasbord of tasty audible treats. From smooth jazz to ska to hip hop infused metal, this series has it all when it comes to musical genres! Screaming from the highest of high rooftops regarding his love of the series is none other than today's returning guest: Niko, aka NikoTengoku, better known as the artist formerly known as Wiiguy. Niko, Justin and Mike sit down and chat about Niko's streams featuring made up lyrics to a Rhythm Heaven song, Justin blanking out dog sound effects, and plenty of other hilarious moments!
Huge thank you to our pal NikoTengoku for stopping by the show again! Visit his twitch stream at: twitch.tv/NikoTengoku
We'd love to hear what you thought about the music in the Rhythm Heaven series, as well as our guest, Niko! What was your favorite track? Shoot us an email at XVGMRadio@gmail.com or join in on the discussion at: https://www.facebook.com/groups/XVGMradio
We have a Discord Channel! Join us and chat about the show, share a random or obscure VGM song you love, or just chit chat with Mike and Justin about tacos! Join for free here: https://discord.gg/zWxDYfn
Thanks to all of our wonderful Patrons: Alex Messenger, Cam Werme, Chris Murray, Chris Myers, Scott McElhone, Chris Hart, Jordan & Anson Davis, Llama Adam, Peter Panda, Kung Fu Carlito, Bedroth, Nick Davis, MixxMaster, Brad Austin, Dan Laughton, Jeremy Rutz and The Autistic Gamer 89. Become a Patron, get cool rewards, and more at http://www.Patreon.com/XVGMRadio
Our Twitter and Instagram are great ways to interact with us! Find us on there under our handle @XVGMRadio
If you're an Apple Podcasts listener, please consider leaving a rating and a review to let us know how we're doing! It also helps with getting the show to show up when others are searching for VGM!
TRACK LISTING:
Intro – Rhythm Heaven (NDS, 2008) "Game Select 2 (That's Paradise Instrumental) – Mitsuo Terada (Tsunku), Masami Yone
1 – Rhythm Tengoku (GBA,ARC 2006) " Rabbit Jump " – Mitsuo Terada (Tsunku), Masami Yone
2 – Rhythm Heaven Fever (Wii, 2012) "See-Saw" – Mitsuo Terada (Tsunku), Masami Yone, Shinji Ushiroda, Asuka Itō
3 – Rhythm Tengoku (GBA, ARC 2006) "Cafe Counsel" – Mitsuo Terada (Tsunku), Masami Yone
4 – Rhythm Heaven Fever (Wii, 2012)" Remix 7" – Mitsuo Terada (Tsunku), Masami Yone, Shinji Ushiroda, Asuka Itō
Patreon Request: Jordan/Anson Davis: Rhythm Heaven Fever (Wii, 2012) "Air Rally" – Mitsuo Terada (Tsunku), Masami Yone, Shinji Ushiroda, Asuka Itō
5 – Rhythm Heaven Megamix (3DS, 2015) "Tap Trial 2 (Turbo Tap Trial)" – Mitsuo Terada (Tsunku), Shinji Ushiroda, Asuka Itō, Yumi Takahashi, Megumi Inoue
6 – Rhythm Heaven (NDS, 2008) "Shoot-em-up 2" – Mitsuo Terada (Tsunku), Masami Yone
7 – Rhythm Heaven: Megamix (3DS, 2015) "Right Hand Remix" – Mitsuo Terada (Tsunku), Shinji Ushiroda, Asuka Itō, Yumi Takahashi, Megumi Inoue
8 – Rhythm Heaven (NDS, 2008) "Glee Club" – Mitsuo Terada (Tsunku), Masami Yone
9 – Rhythm Heaven Fever (Wii, 2012) "Remix 3 ~ I Feel Fine (Tonight)" – Mitsuo Terada (Tsunku), Masami Yone, Shinji Ushiroda, Asuka Itō
Podcast: Play in new window | Download