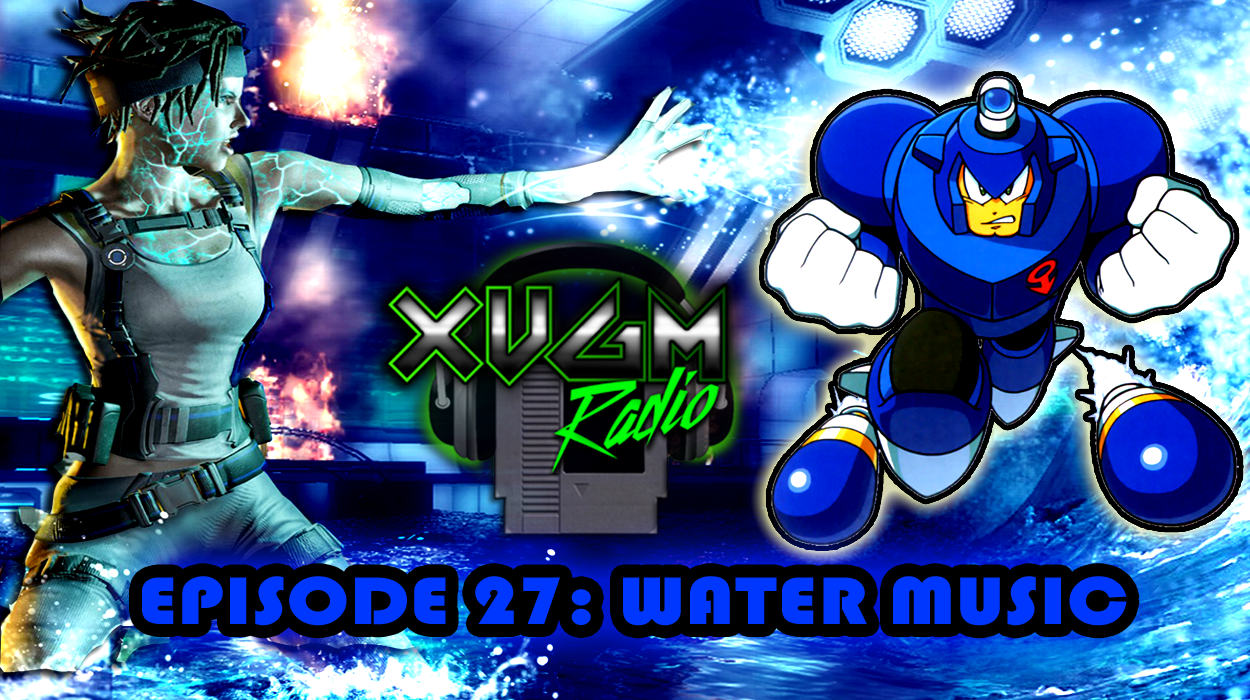 Water themes in video games: You either hate them or love them. We've been getting a ton of rain lately, so what better way to forge through the storm then to talk about water themes in video games?! Justin and Mike put away their umbrellas and chat about an eclectic mix of tunes based on either bosses, levels song names or entire games that focus on water! Listen closely as the XVGM Radio boys slosh around in their iced-tea-filled-adult-diapers, get threatened by Kevin Costner, debate about the superior Earthworm Jim soundtracks, and more on this wet and wild episode of XVGM Radio!
We'd love to hear what you thought about this sopping wet tracking listing. What was your favorite track? Shoot us an email at XVGMRadio@gmail.com or join in on the discussion at www.Facebook.com/Groups/XVGMRadio
We have a Discord Channel! Join us and chat about the show, share VGM you love, or just chit chat with Mike and Justin about tacos! Join for free here: https://discord.gg/zWxDYfn
Special thanks to Jordan & Anson Davis for their Patreon pick! Thanks to the rest of our wonderful Patrons: Alex Messenger, Cam Werme, Chris Murray, Chris Myers, Scott McElhone, Jordan & Anson Davis, Peter Panda, Kung Fu Carlito, John "Mixxmaster" Jekel and The Autistic Gamer 89. Become a Patron, get cool rewards, and more at www.Patreon.com/XVGMRadio
Our Twitter and Instagram are great ways to interact with us! Find us on there under our handle @XVGMRadio
If you're an iTunes listener, please consider leaving a rating and a review to let us know how we're doing! It also helps with getting the show to show up when others are searching for VGM!
TRACK LISTING:
Intro: Wetrix (N64 – 1998) "Pro Mode/Challenge Mode" Suddi Raval
1 – Earthworm Jim (GEN – 1994) "Level 5" Tommy Tallarico, Mark Miller
2 – Blaster Master Zero (3DS/NS – 2017) "The Abyssal Seas" Ippo Yamada, Hiroaki Sano, Aoi Takeda, Kotaro Yamada, Naoki Kodaka
3 – Hydrophobia (XB360 – 2010) – "Huntdown 1" Yves Altana, Bjorn A. Lynne, Joseph Shorrocks
4 – Water World (SNES – 1995) "Map" Dean Evans
5 – Donkey Kong Country 2: Diddy's Kong Quest (SNES – 1995) "Lockjaw's Saga" David Wise, Eveline Novakovic (Fisher), Robin Beanland
6 – Mega Man 4 (NES – 1991) "Dive Man Stage" Minae Fujii (Ojalin), Yasuaki Fujita (Bunbun)
7 – Legend of Zelda: Ocarina of Time (N64 – 1998) – "Water Temple" Koji Kondo
Patreon Pick: Jordan/Anson Davis – Baten Kaitos Origins (GCN – 2006) "Water Clouds" Motoi Sakuraba
8 – Mario Kart 8 Deluxe (Switch – 2018) "Dolphin Shoals" Shiho Fujii, Atsuko Asahi, Ryo Nagamatsu, Yasuaki Iwata, Asuka Hayazaki, Tōru Minegishi, Kazumi Totaka, Kōji Kondō
9 – ABZU (PS4/WIN/XBOne – 2016) "To Know, Water" Austin Wintory
10 – Final Fantasy X (PS2 – 2003) "Blitz Off" Junya Nakano, Masashi Hamauzu, Nobuo Uematsu
Podcast: Play in new window | Download