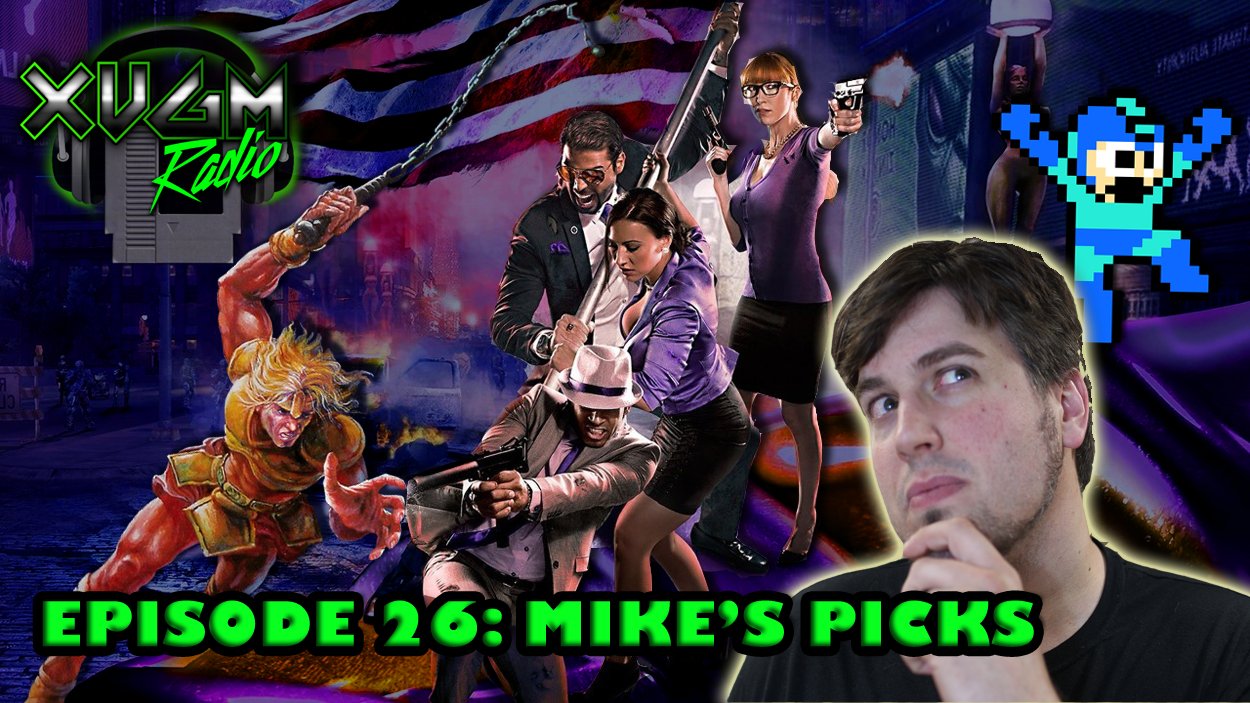 It's co-host spotlight time…AGAIN! This time around, Mike picks the tracks for the episode. Hear tracks ranging from the NES to the Playstation 4 as Mike and Justin take you on a audio journey through Mike's wacky mind. From conversations about Simon Belmont telemundo style, to handling calls from anyone from "Mike's mom" to an angry planet devourer, and even a little jokey ribbing of Mike's youtube game review show, this episode is a nostalgic trip full of mega hits and obscure picks from popular games.
We'd love to hear what you thought about this goofy list of Mike's choices. What was your favorite track? Shoot us an email at XVGMRadio@gmail.com or join in on the discussion at www.Facebook.com/Groups/XVGMRadio
We have a Discord Channel! Join us and chat about the show, share VGM you love, or just chit chat with Mike and Justin about tacos! Join for free here: https://discord.gg/zWxDYfn
Thanks to the rest of our wonderful Patrons: Alex Messenger, Cam Werme, Chris Murray, Chris Myers, Scott McElhone, Jordan & Anson Davis, Peter Panda, Kung Fu Carlito, John "Mixxmaster" Jekel and The Autistic Gamer 89. Become a Patron, get cool rewards, and more at www.Patreon.com/XVGMRadio
Our Twitter and Instagram are great ways to interact with us! Find us on there under our handle @XVGMRadio
If you're an iTunes listener, please consider leaving a rating and a review to let us know how we're doing! It also helps with getting the show to show up when others are searching for VGM!
TRACK LISTING:
Intro : Shadow of the Ninja (NES, 1990) – "Prologue Theme" Iku Mizutani, Kouichi Yamanishi
1 – Astyanax (NES, 1990) – "Marshy" Toshiko Tasaki
2 – Super Castlevania IV (SNES, 1991) "Spinning Tale" Masanori Adachi, Akira Soji, Taro Kudo
3 – X-Men (Arcade, 1992) – "Junk Factory" Yuji Takenouchi, Seiichi Fukami, Junya Nakano, Ayako Nishigaki
4 – Mega Man 6 (NES, 1993) – "Tomahawk Man" Yuko Takehara
5 – Chrono Trigger (SNES 1995) – "Corridors of Time"Yasunori Mitsuda, Nobuo Uematsu
6 – Jet Force Gemini (N64, 1999) – "Character Select Screen" Robin Beanland, Alistair Lindsay, Graeme Norgate
7 – Metroid Prime (GCN, 2002) – "Parasite Queen Battle" Kenji Yamamoto, Koichi Kyuma
8 – Prince of Persia: Warrior Within (GCN/PS2/XBOX/PC, 2004) – "Tower Encounter" Stuart Chatwood, Godsmack (Licensed Tracks)
9 – Gravity Rush (PS Vita, 2012/PS4, 2016) "The Phantom of Hekseville" Kohei Tanaka
10 – Saints Row IV (PS3/PS4, 360/XBONE, PC, Linux 2013) "Northeast City" Malcolm Kirby Jr.
Podcast: Play in new window | Download