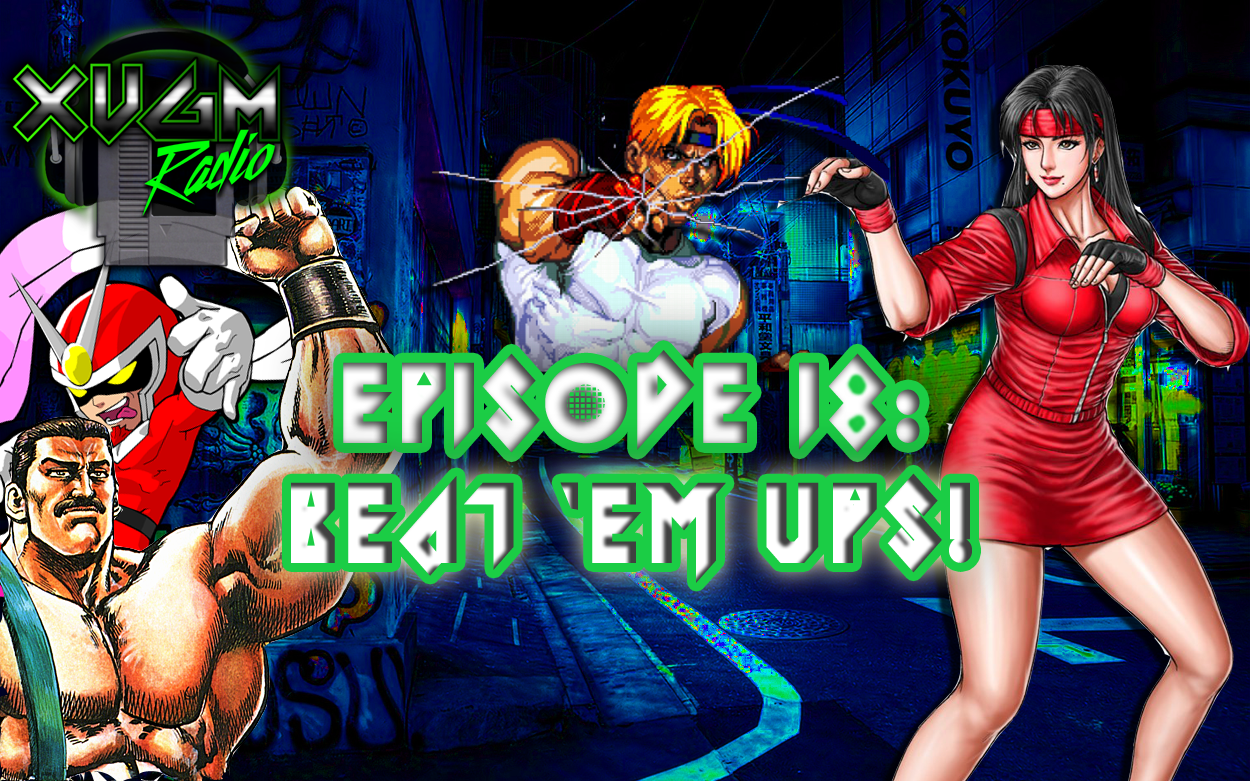 Back in the 80s and 90s, the Beat 'Em Up began to evolve into one of the most celebrated (and imitated) genres of all time. However, what was always constantly refreshing were the tunes that arcade and console Beat 'Em Ups were pumping out, while the quarters were being pumped in. Today on XVGM Radio, Justin and Mike explore the vast musical genres of Beat 'Em Ups; Get ready to defeat the baddest of foes while these dudes take you through the illest of brawler tracks. From Mega Drive exclusives, to games that never left the arcade, the XVGM boys will have you howling with laughter when they try to figure out who pooped on the lawn. Wait, what?! Close your eyes, slip those headphones on, grab some quarters and get ready to lose yourself to the sound of the Beat 'Em Up.
Special thanks to Jay Dubious of Dubious Gaming for voicing the "Punk" character during the commercial break! Check his channel out at:
https://www.youtube.com/user/DubiousGamingOnline
Thank you to Kung Fu Carlito for his Patreon pick this episode! We thank the following Patrons: Alex Messenger, Scott McElhone, Cam Werme, Chris Murray, Kung Fu Carlito, Chris Myers, Peter Panda, The Autistic Gamer 89, Mixxmaster. Want to pick a track for a future episode? Head over to our Patreon page and find out more details! www.patreon.com/XVGMRadio
Join our Facebook group to hear and see more about this episode, as well as chat with us about previous episodes, and other VGM and video game related goodness! www.facebook.com/groups/XVGMRadio
Our social media is another great way to stay in touch with us! Our Twitter and Instagram handle is @XVGMRadio , please follow us! You can also join our Discord for free: https://discord.gg/zWxDYfn
Also, you can email your thoughts or suggestions to: XVGMRadio@gmail.com or let us know via a review/rating on iTunes!
TRACK LISTING:
Intro: Streets of Rage (GEN – 1991) "Title Theme" Yuzo Koshiro
1 – Batman Returns (SNES – 1993) "Prologue" – Jun Funahashi, Harumi Uekō, Kazuhiko Uehara, Danny Elfman (Original Movie Soundtrack)
2 – Water Margin: The Tales of Clouds and Winds (Shui Hu Feng Yun Zhuan) (SMD – 1996) "Stage 6" Hanmin Liao
3 – Alien vs Predator (SNES – 1993) "City" Tenpei Sato, Hisayoshi Ogura (As Mr. Ogura)
4 – Patreon Pick: Kung Fu Carlito – Teenage Mutant Ninja Turtles 3: The Manhattan Project (NES – 1991) "Mechanical Walkin' (Scene 6 – Technodrome)" Kozo Nakamura, Tomoya Tomita, Yuichi Sakakura
5 – Spikeout: Battle Street (XBOX – 2005) "Cryin' Out Loud! (Diesel Town 2)" Shinji Hosoe, Ayako Saso
6 – God Hand (PS2 – 2006) "Battery Size D" Masafumi Takada, Jun Fukuda
7 – Final Fight (SNES – 1990) – "Toilet Gang (Stage 4-Part 2)" Toshio Kajino (arranger), Harumi Fujita, Yasuaki Fujita, Manami Matsumae, Yoshihiro Sakaguchi, Yoko Shimomura, Hiromitsu Takaoka, Junko Tamiya
8 – Cadillacs & Dinosaurs (Arcade – 1993) "The Four Heroes (Stage 1-1)" Isao Abe, Shun Nishigaki, Ryo Mizutsuki
9 – Phantom Breaker BattleGrounds Overdrive – (XB360/PC/PS4/Vita/Switch – 2015-2018) "Stage 0 – Akihabara FM Synth DLC Version" Takeshi Abo
10 – Viewtiful Joe (GCN – 2003) "Blue the Justice (Captain Blue's Music)" Masakazu Sugimori, Masami Ueda
11 – Metamorphic Force (Arcade – 1993) "Stage 3 (Frozen Land)" Mutsuhiko Izumi, Mariko Egawa
Podcast: Play in new window | Download