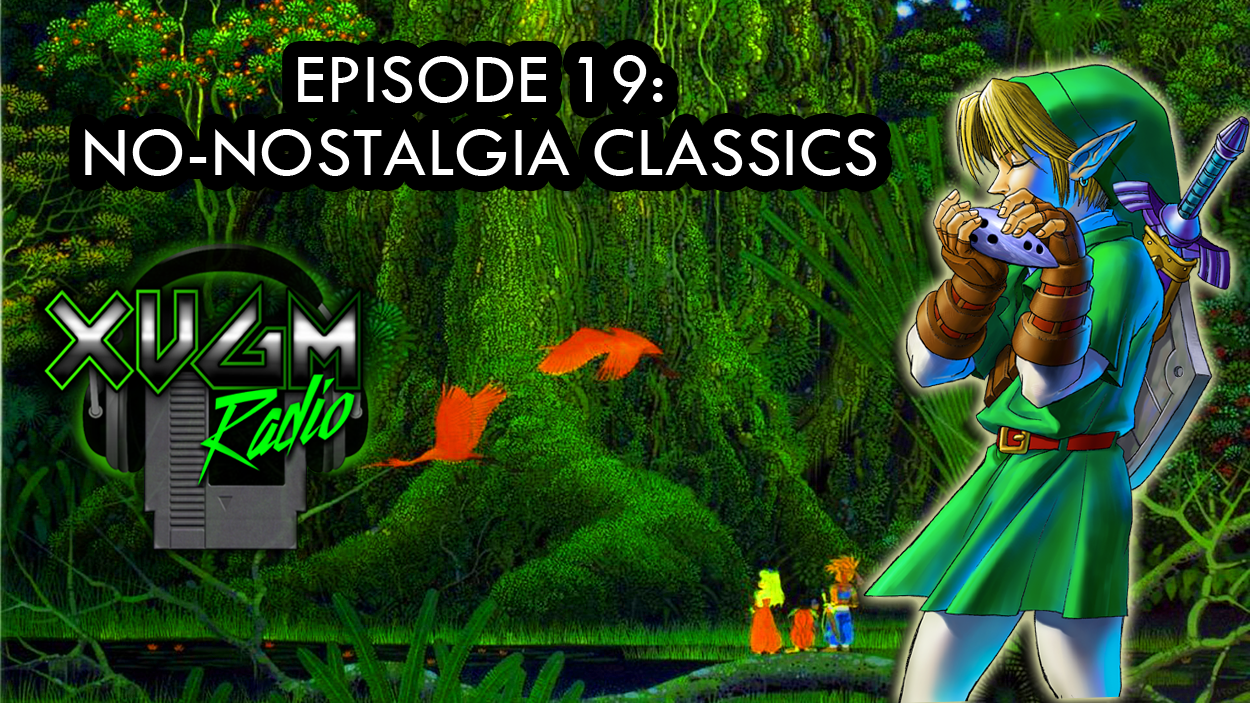 Most video game music podcasts focus on bringing the nostalgia on hot and heavy. Normally, we partake in this ideology. After all, video games and specific VGM tracks are home to some of our warmest memories from childhood and on. Today, we'll be diving into the unknown as we explore games we're told are classics, and yet…we have little to no experience with the games or their soundtracks! Mike and Justin listen to tracks they may not necessarily agree on, compare one of the picks to the Duck Tales theme song and try to figure out what's on an Aleste Salad (hint: It's Extra Musha.) All on this extra-exploratory, no-nostalgia classics episode of XVGM Radio!
Huge thank you to our Patrons who help donate to the show! We're so grateful for each and every one of you! Thanks to: Alex Messenger, Cam Werme, Chris Meyers, Scott McElhone, Chris Murray, Kung Fu Carlito, Peter Panda, Mixxmaster and The Autistic Gamer 89.Want to pick a track for a future episode? Head over to our Patreon page and find out more details! 
www.patreon.com/XVGMRadio
Join our Facebook group to hear and see more about this episode, as well as chat with us about previous episodes, and other VGM and video game related goodness! 
www.facebook.com/groups/XVGMRadio
Our social media is another great way to stay in touch with us! Our 
Twitter 
and 
Instagram 
handle is @XVGMRadio , please follow us! You can also join our Discord for free: 
https://discord.gg/zWxDYfn
Also, you can email your thoughts or suggestions to:
XVGMRadio@gmail.com
or let us know via a review/rating on iTunes!
TRACK LISTING:
Intro: Burning Rangers (SAT – 1998) "Burning Hearts (Burning ANGEL) – Japanese Version" Takenobu Mitsuyoshi (vocals), Naofumi Hataya, Fumie Kumatani, Masaru Setsumaru
1 – Secret of Mana (SNES – 1993) "The Little Sprite" Hiroki Kikuta
2 – Phantasy Star II (GEN – 1990) "Exciting Town"  Tokuhiko Uwabo
3 – M.U.S.H.A. (GEN – 1990) "Armed Armor" Toshiaki Sakoda
4 – Earthbound (SNES – 1995) "Battle Against Belch" Keiichi Suzuki, Hirokazu Tanaka
5 – Final Fantasy 2 (IV) (SNES – 1991) "Overworld Theme" Nobuo Uematsu
6 – River City Ransom (NES – 1989) "Mid Boss(A Tougher Fight)" Kazuo Sawa
7 – Kirby's Dream Land 2 (G -, 1995) "Coo The Owl"  Tadashi Ikegami, Hirokazu Ando
8 – Jumping Flash! (PS1 – 1995) "World 4-3 (Boss Turtle Machine)"  Takeo Miratsu
9 – New Adventure Island (TG16 – 1992) "Icy Forest (Stage 3-3)" Keiji Sakata
10 – Legend of Zelda: OoT (N64 – 1998) "Gerudo Valley"  Kōji Kondō
Podcast: Play in new window | Download