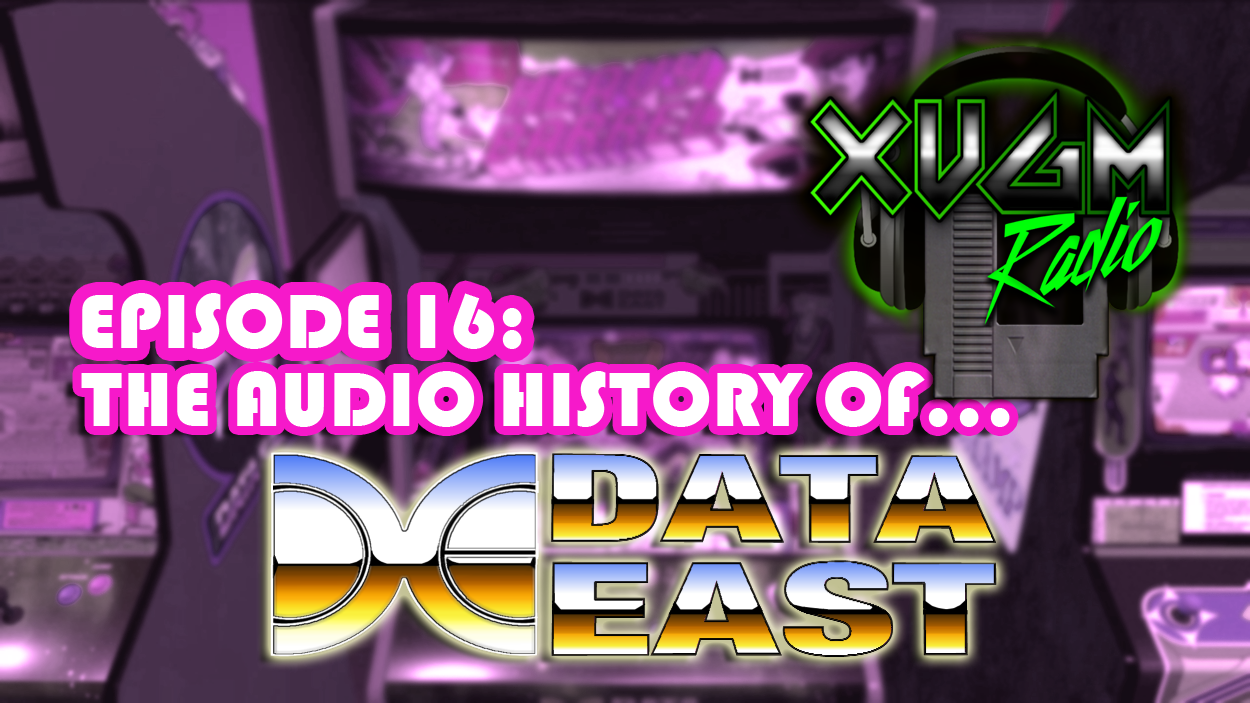 Two video game music podcast hosts are here to talk about the soundtracks from Data East's yesterday….Are you a BAD ENOUGH DUDE to listen all the way through?! Mike and Justin are revisting the glory of Data East's arcade and home offerings, both from the developer themselves, or their affiliated hired developer. You'll hear plenty of time travelling arcade bangers that'll make you want to sink your lips onto the straw of an Ecto Cooler, but save room for chats about nuclear fallout, lyrical goofiness in VGM, and weapons looking like lipstick cases. Presented by Data East, it's time to travel back in time for the good old 80s and mid-90s and rock out with some tubular gaming jams!
Thanks so much to Kung Fu Carlito for the info regarding the Capcom Fujitas so we could dig deeper and get more info to clarify some previous Capcom-related follies at the top of the show!
And Thanks to Scott McElhone for his Patreon pick! Find out how you can pick tracks for the show, as well as tons of other cool rewards through our Patreon!
Patreon.com/XVGMRadio
. Our patrons are as follows (Thanks to all of you! Alex Messenger, Scott McElhone, Cam Werme, Chris Murray, Kung Fu Carlito, Chris Myers, Peter Panda, The Autistic Gamer 89, Mixxmaster.
TRACK LISTING:
Intro: Joe & Mac (Arcade – 1991) "Stage Theme 01" Hiroaki Yoshida, Seiichi Hamada, Takafumi Miura, Yusuke Takahama
1 – Heavy Barrel (NES – 1987) – "Stage 1" Shogo Sakai, Takafumi Muira, Maasaki Iwasaki, Seiuchi H (programming only on this game), Yuji Suzuki, Yusuke Takahama
2 – Robocop – "Main Theme" (Arcade – 1988) Basil Poledouris (Original Movie Soundtrack), Hitomi Komatsu (Arranger)
3 – Atomic Runner Chelnov (Arcade – 1988) "Ending" Azusa Hara, Hiroaki Yoshida, Tatsuya Kiuchi, Tenno.
4 – Act-Fancer: Cybernetick Hyper Weapon (Arcade – 1989) "Cyber Brain (BGM 3)" Azuza Hara, Hiroaki Yoshida , Shuji Segawa, Tatsuya Kiuchi, Hitomi Kimotsu, Kenji Mori
5 – Werewolf: The Last Warrior (NES – 1990) – "Stage Theme (Human/Werewolf)" Shogo Sakai, Takafumi Muira, Yusuke Takahama
6 – Captain America and the Avengers (Arcade – 1991) "Stage 5" Tomoyoshi Sato, Tatsuya Kiuchi
Patreon Pick: Scott McElhone – Dash Galaxy in the Alien Asylum (NES – 1990) "Stage Platform 01" Tania Smith
7 – Dashin Desperadoes (Genesis – 1993) "Destroy the Truck!" Masaaki Iwasaki, Hiroyasu Fujimaru, Manabu Yokoi
8 – Windjammers (Arcade/NG/NGCD – 1994) "You Got A Power (Concrete Court)" Keiichi Hamada, Tomoyoshi Sato, Masaaki Iwasaki
9 – Metal Max Return (SFC – 1995) "Battle" Satoshi Kadokura
10 – Night Slashers (Arcade – 1993) "Under The Moonlight (Stage 3)" Tomoyoshi Sato, Tatsuya Kiuchi
Podcast: Play in new window | Download