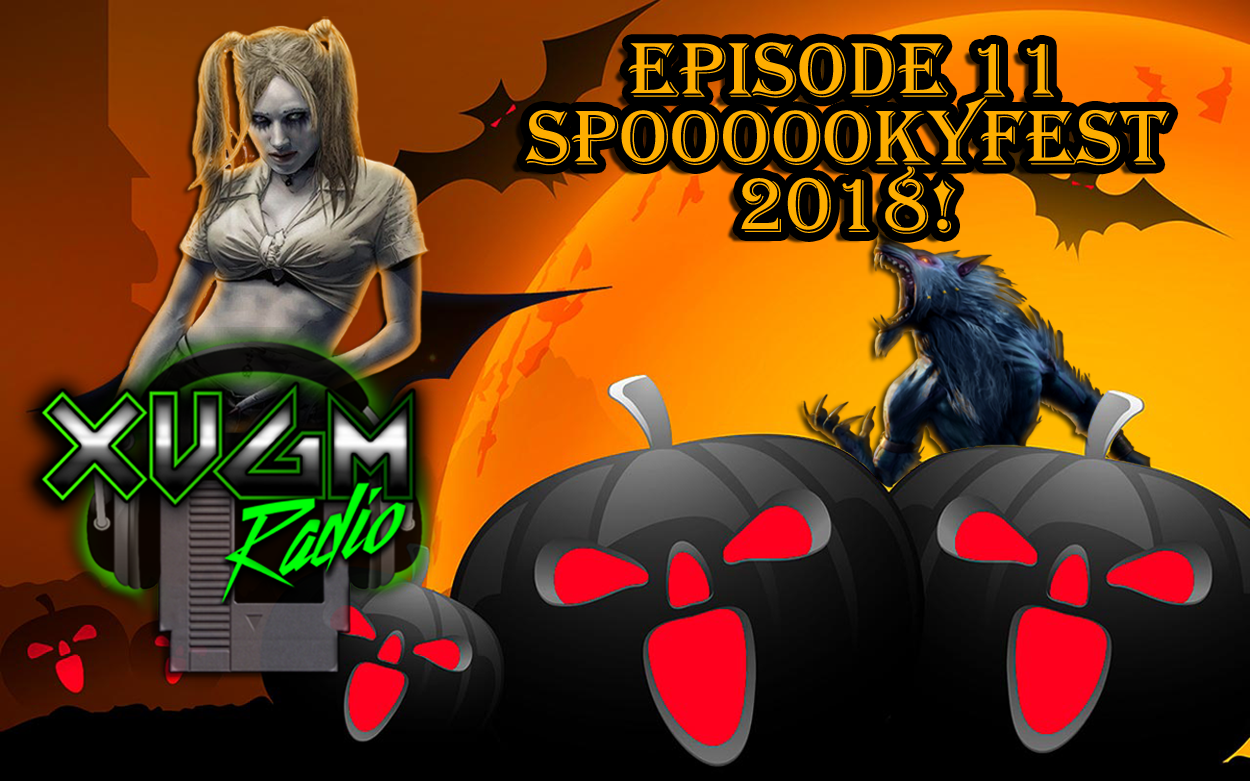 It's that SPOOOOOOOOKYYYY time of year again, and the XVGM Radio gentleghouls are here to host a radio festival styled show, live, called SPOOKYFEST 2018! Grab a Belmont's Wall Meat turkey leg and make a reservation for Boosette's bed and breakfast, because we've got tons of creepy, crawly tracks from a wide variety of games, all with that SPOOOOKYYY sound that's perfect for this time of the year.
We'd love to know what you thought of this style of episode? Did you like SPOOKYFEST?! Leave a comment or send us an email at XVGMRadio@gmail.com with your favorite track or the episode!
Please join our Facebook group so you can celebrate with your fellow podcast listeners! www.facebook.com/groups/XVGMRadio is the place to go to share your own favorite SPOOKY tracks too!
Our Twitter & Instagram are great ways to reach us and see extra stuff we share as well! Our handle on both of those is @XVGMRADIO
If you have iTunes, we'd LOVE a rating and review! Let u know how we're doing, what you think of our show, and ways we can improve. Do you like the selections of music? Do you want more commercials and callers? Let us know!
Thanks to Cam Werme for this episode's PATREON Pick! Become a Patron of the podcast to get exclusive title card reveals early, as well as tons of extra bonuses and exclusive content! Thanks to our current Patrons: Alex Messenger, Cam Werme, Chris Murray, Chris Myers, Scott McElhone
There's still a few more days to donate to Justin's Extra Life campaign to help kids with diseases. Check it out here.
TRACK LISTING:
Intro: New Ghostbusters 2 (NES – 1990) "Level 4: The River of Slime" – Jun Ishikawa, (Original Track: Bobby Brown, Dennis Austin, Larry White, Kirk Crumpler)
1 – Monster House (GBA – 2006) "Floor 4" Manfred Linzner
2 – Medievil (PS1 – 1998) "The Hilltop Mausoleum" Paul Arnold, Andrew Barnabas
3 – Nightmare Circus (Genesis – 1996) "Wall of Death" Kurt Harland, Jim Hedges, Andy Armer
4 – Tiny Toon Adventures – Buster Busts Loose! (SNES – 1992) "Stage 03/Spooky Mansion" Kazuhiko Uehara, Yukie Morimoto
5 – Killer Instinct (XBOne – 2013) "Lycanthropy (Saberwulf's Theme)" Mick Gordon , Robin Beanland and Graeme Norgate (callback)
6 – Patreon Pick: Cam Werme – Castlevania Bloodlines (Genesis – 1994) "The Discolored Wall" Michiru Yamane
7 – Vampire: The Masquerade – Bloodlines (PC – 2004) "Vesuvius" Rik W. Schaffer
8 – Dr. Franken 2 (Game Boy – 1997) "Track 4"- Mark Cooksey
9 – Kirby 64: The Crystal Shards (N64 – 2000) "Ripple Star Catacombs" Jun Ishikawa, Hirokazu Ando
10 – Alundra (PS1 – 1997) "Nightmare" Kohei Tanaka
11 – Super Mario World (SNES – 1990) "Haunted House" Koji Kondo
Podcast: Play in new window | Download