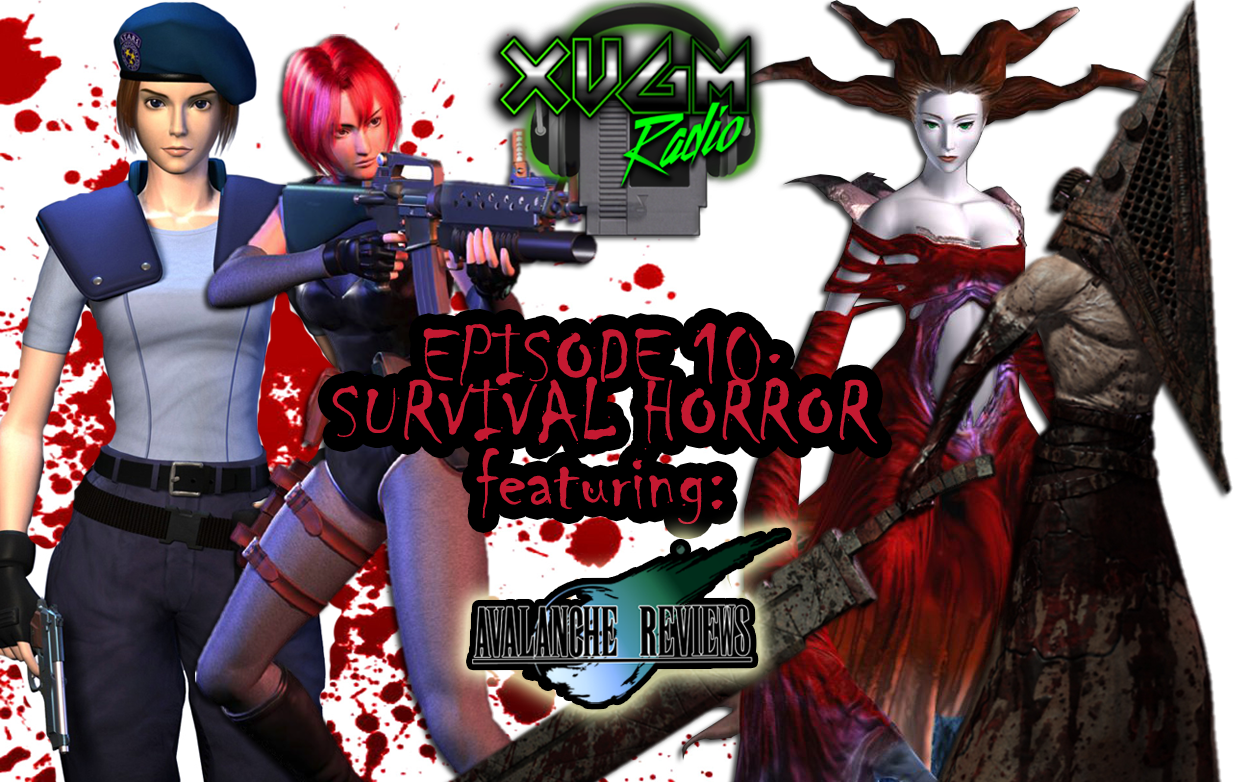 Starting off the spooky season, the XVGM Radio boys are joined by Avalanche Reviews, aka Avalanche Jared, to showcase the survival horror genre of games and game music. Jared shares his history and experiences with various survival horror games, and the guys debate if Aya Brea is Christina Aguilera, along with defining the survival horror genre, all with a backdrop of some frighteningly good tracks! So grab your ink ribbons, Camera Obscuras, and Boomstick, and prepare for a wild ride!
Big thanks to our guest, Avalanche Reviews (Jared) for joining us. Check out his channel here.
Thank you to Candi's Game Shrine for providing voice over for the RE Commercial! Check out her awesome channel here.
There's still time to donate to Justin's Extra Life campaign to help kids with diseases. Check it out here.
https://www.extra-life.org/index.cfm?fuseaction=widgets.250x170ribbon&participantID=314150
Please support our show on iTunes by giving us a rating and review. It helps get the word out about the show and tells us how we're doing.
You can also check us out on Patreon to receive exclusive bonuses! www.patreon.com/XVGMRadio
Thank you to our Patrons: Chris Murray, Alex Messenger, Cameron Werme, Scott McElhone and Chris Meyers.
Our Facebook group is a great way to interact with fellow fans of the show. Do you have a favorite song in this episode? Share your picks on www.facebook.com/groups/XVGMRadio
Don't forget you can follow us on Twitter/Instagram! @XVGMRadio
Email us at: XVGMRadio@gmail.com to share your thoughts on the episodes or visit us at XVGMRadio.com
TRACK LISTING:
Intro – Silent Hill 3 (PS2/PC – 2003) – "You're Not Here" – Akira Yamaoka (w/ vocals from Mary Elizabeth McGlynn)
1 – Resident Evil 2 (PS1 – 1998) – "Front Hall" Masami Ueda, Shusaku Uchiyama, Shun Nishigaki
2 – Alone in the Dark (PC – 1992) – "Run for your Life" – Philippe Vachey
3 – Dead Space (XB360/PS3/PC – 2008) -"Do Not Vomit, Do Not Shout" – Jason Graves, Rod Abernathy
4 – Parasite Eve (PS1 – 1998) – "Out of Phase" – Yoko Shimomura
5- Silent Hill: Origins (PS2 – 2007) – "Shot Down in Flames" – Akira Yamaoka, Mary Elizabeth Mcglynn (vocals)
6 – Fatal Frame Maiden of Black Water (WiiU – 2014) "Lost House" – Ayako Toyoda
7 – Resident Evil (PS1 – 1996) – "Second Floor Revisited" Makoto Tomozawa, Akari Kaida, Masami Ueda
8 – Evil Dead: Hail to the King (PS1 – 2000) – "Title Screen" – Tommy Tallarico, Todd Dennis, Chris Rickwood, Jack Wall
9 – Sweet Home (NES – 1989) – "Battle Theme" – Junko Tamiya
10 – Dino Crisis -(PS1/DC/PC – 1999) "Burn Away" -Makoto Tomozawa, Akari Kaida, Sayaka Fujita, Shun Nishigaki
Podcast: Play in new window | Download