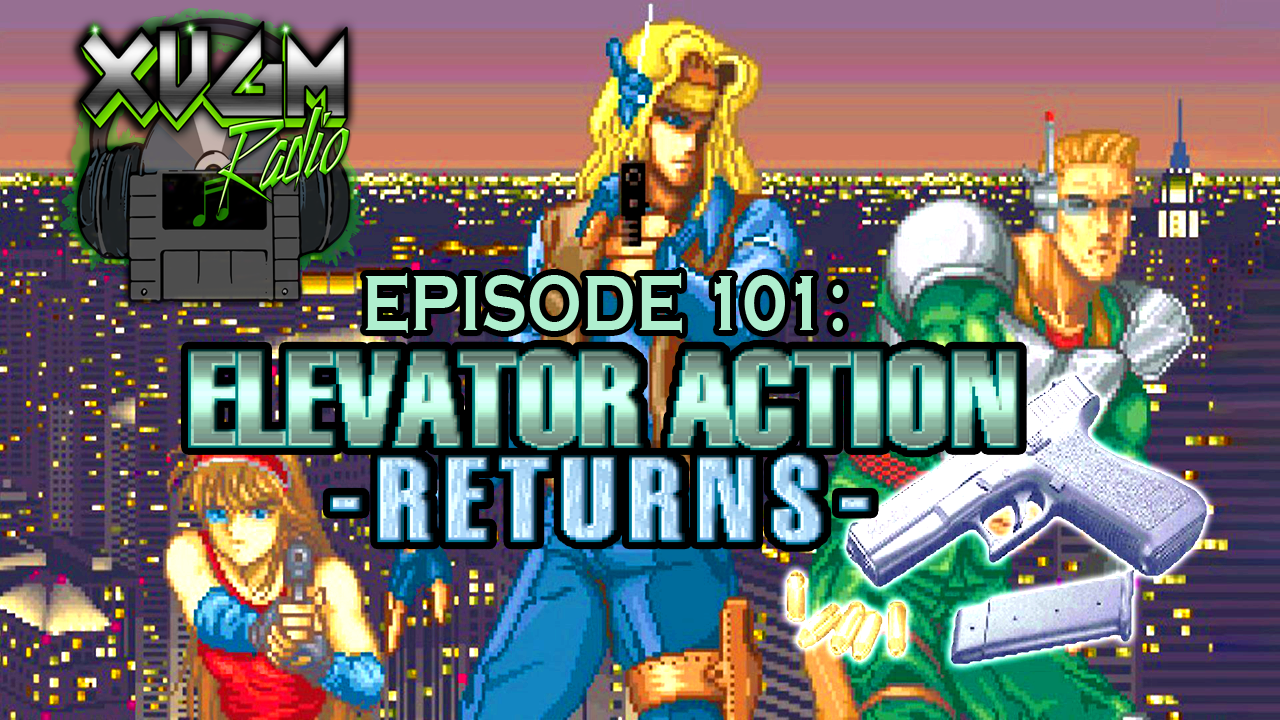 Step into the world of Elevator Action Returns: A place full of guns, explosions and most importantly…elevators! Justin and Mike climb back into the world of Taito's in house band, Zuntata; more specifically Yasuhisa Watanabe's stellar soundtrack for this exciting sequel to the original arcade classic, Elevator Action. From funk elements to jazz and light rock inspired tunes, Elevator Action Returns features some amazingly smooth music that is worth grabbing a beverage, slipping some headphones on and kicking your feet up. It's a good thing the XVGM Radio boys can only think in job…the job of exploring awesome video game music that is!
Big thank you to Lady Laci from the Youtube channel DoYouNerd! She's featured in this episode's commercial. Go check out DOYouNerd's channel for all things geek, nerd of both modern and retro! https://t.co/Z9EnR0QG0B
Did you have a favorite track on this super smooth game's OST?  Shoot us an email at XVGMRadio@gmail.com or join in on the discussion at: https://www.facebook.com/groups/XVGMradio
Also, we have a Discord Channel! Join us and chat about the show, share a random or obscure VGM song you love, or just chit chat with Mike and Justin about tacos! Join for free here: https://discord.gg/zWxDYfn
Thanks to all of our wonderful Patrons: Cam Werme, Chris Murray, Chris Myers, Scott McElhone, Jordan & Anson Davis, Rayjkayj, Llama Adam, Kung Fu Carlito, Nick Davis, Ryan McPherson, Marques Stewart, Scott Brackett, and Brad Austin. Become a Patron, get cool rewards, and help support the show at http://www.Patreon.com/XVGMRadio
Check out all episodes of XVGM Radio on www.youtube.com/dongled for another more visual format!
Our Twitter and Instagram are great ways to interact with us! Find us on there under our handle @XVGMRadio
If you're an Apple Podcasts listener, please consider leaving a rating and a review to let us know how we're doing! It also helps with getting the show to show up when others are searching for VGM!
All songs by Yasuhisa Watanabe of Zuntata
TRACK LISTING:
Intro – D.E.F.
1 – Colors of Night
2 -Way Out/Rush Action/Debriefing
3 – The Cleaner
4 – Side By Side Side A
5 – Feedback Romance – Side B
6 – Red Suit
7 – I Can Only Think in Job
8 – Break Beat
9 – System Down
10 – Blow Up
Podcast: Play in new window | Download