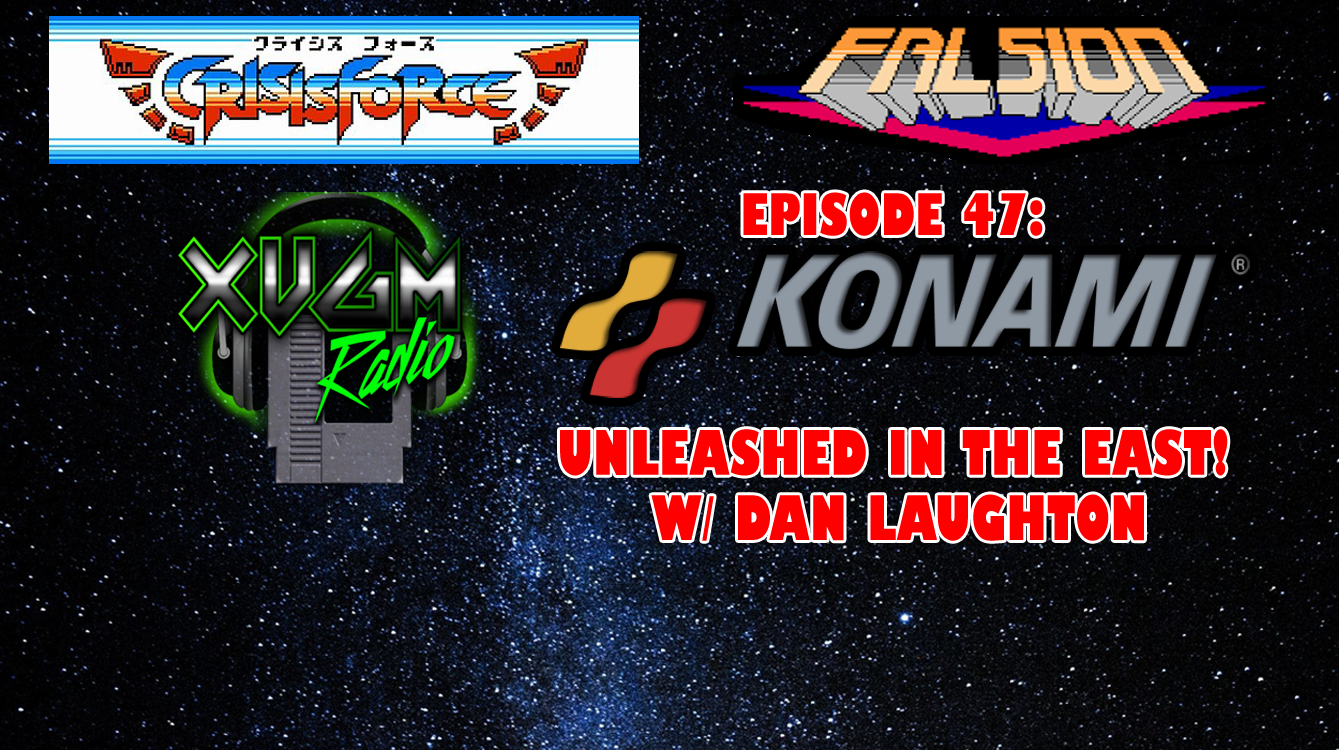 There's plenty of Konami classics that never made their way outside of Japan. We could probably do an entire episode like this featuring the Ganbare Goemon series! However, today we'll be focusing our efforts on two shoot 'em ups (SHMUPS, Shooters, Shmupdangos, whatever you wanna call them!) Falsion, a Famicom Disk System game that took use of the 3D Glasses that premiered on the same day, as well as Crisis Force, one of the final Konami games released on the Famicom. Both of these have stellar soundtracks that are worth sharing with the rest of the world. So let Mike and Justin take you on a wild space mission with special guest, author Dan Laughton. Learn about how real world physics apply to space battles, hear Mike and Justin travel from the future with California accents on a mission to save the world…and jam out to some awesome music on this episode of XVGM Radio!
Big thank you to Patreon member Dan Laughton for requesting a track for this episode, and Dan Laughton for being on our show! Check out Dan's book if you enjoyed this brief glimpse into his view on video games! Purchase link is here: http://tiny.cc/zb1glz
Make sure to also check out his podcast he co-hosts with his wife called The Village Person's Podcast! https://thevillagepersonspodcast.com/podcast/
We'd love to hear what you thought about these blood-pumping Japan-exclusive Konami SHMUP tracks. What was your favorite song? Shoot us an email at XVGMRadio@gmail.com or join in on the discussion at: https://www.facebook.com/groups/XVGMradio
We have a Discord Channel! Join us and chat about the show, share a random or obscure VGM song you love, or just chit chat with Mike and Justin about tacos! Join for free here: https://discord.gg/zWxDYfn
Thanks to all of our wonderful Patrons: Alex Messenger, Cam Werme, Chris Murray, Chris Myers, Scott McElhone, Jordan & Anson Davis, Llama Adam, Peter Panda, Kung Fu Carlito, Bedroth, Nick Davis, MixxMaster, Brad Austin, Dan Laughton, Matthew Hannola, Jeremy Rutz and The Autistic Gamer 89. Become a Patron, get cool rewards, and more at http://www.Patreon.com/XVGMRadio
Our Twitter and Instagram are great ways to interact with us! Find us on there under our handle @XVGMRadio
If you're an Apple Podcasts listener, please consider leaving a rating and a review to let us know how we're doing! It also helps with getting the show to show up when others are searching for VGM!
TRACK LISTING:
FALSION (FDS)
Composed by: Shinya Sakamoto, Shigehiro Takenouchi, Atsushi Fujio
Intro – "Stage 1"
1 – "Boss Theme"
2 – "Stage 2"
3 – "Stage 4"
4 – "Last Boss"
5 – "Stage 6"
CRISIS FORCE (FC)
Composed by: Kenichi Matsubara, Yasuhiko Manno, Jun Chuma
6 – "Stage 4:World of Fire"
7 – "Stages 1 & 6: Advanced City"
8 – "Final Battle 1/Boss 2"
9 – "Ending"
10 – "Stage 2:Land and Sea"
Podcast: Play in new window | Download