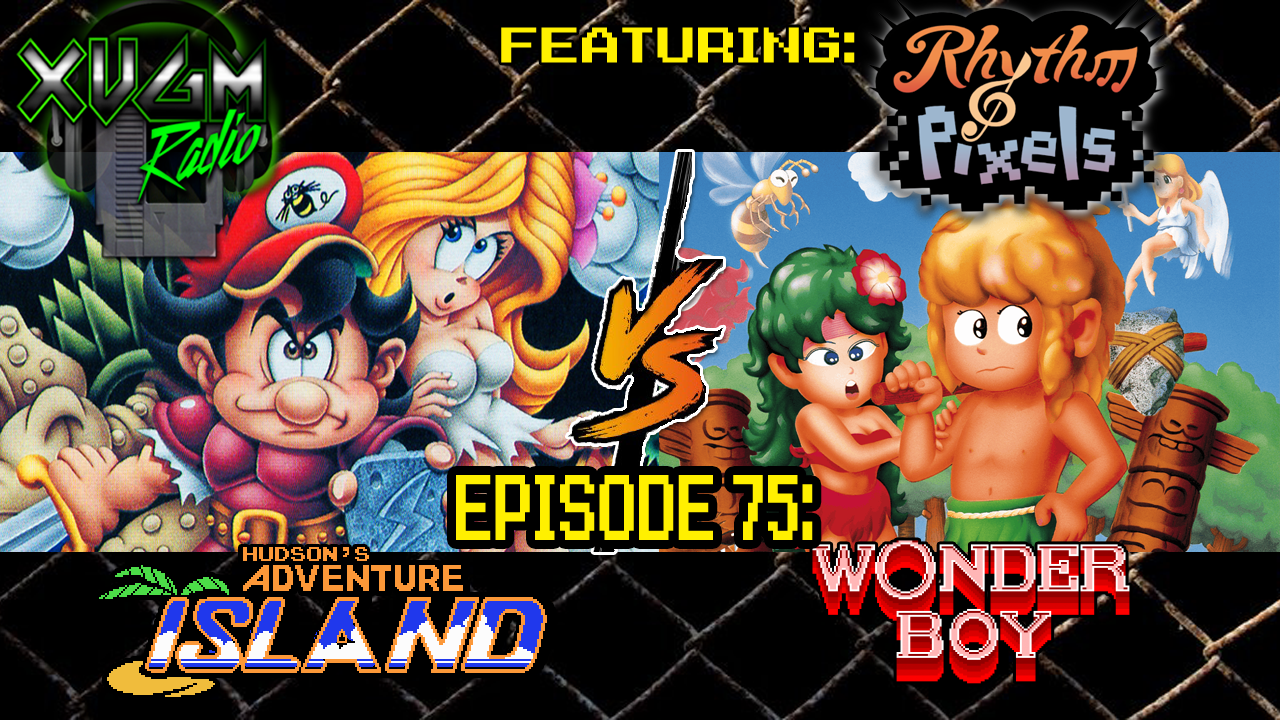 In an epic battle for Justin's soul, Mike and Justin teamed up with Rhythm & Pixels to discuss the wild, wacky world of Adventure Island and Wonder Boy games and their funky fresh music! From heavy metal chiptune boss bangers to Dorabian Night arabic themes (yes, you read that right), the guys showcased some absolutely killer tunes this time around! From hilarious chats about Rob being an 80 year old unknown Japanese VGM composer (I gotchu-chan!) to creating a fake VGM band called Master Wiggins, Rhythm & Pixels plus XVGM Radio ALWAYS is a chaotic sea of fun and information and in this case, you get to learn about the backstory of how Adventure Island ripped off Wonder Boy. How did the series come full circle in the end? Why is Pernell so obsessed with Turbo Grafx? Does Justin's Soul ever get claimed? Is Rob running composer conspiracies?! Find out on this action-packed episode of XVGM Radio…and make sure to grab enough fruit along the way!
Big thank you to Rob and Pernell for joining us on this really fun episode. Rhythm & Pixels is an awesome VGM Podcast that you can check out here: https://rhythmandpixels.com/ Links to all their social media are in there too!
Also, check out their VGM 24/7 stream of tunes! https://www.youtube.com/watch?v=DOyCDPwEiOw
Special thank you to Ed Wilson from The VGMbassy for voicing our announcer in this episode's commercial! Check out his equally awesome VGM Podcast here: https://thevgmbassy.com/
What was your favorite track of the episode? Do you have a preference of Adventure Island or Wonder Boy games and their music and does that line up together or do you like one more than the other? Have you played any of these games and if not, are you going to seek them out and their soundtracks? What did you think of our guests? Shoot us an email at XVGMRadio@gmail.com or join in on the discussion at: https://www.facebook.com/groups/XVGMradio
Also, we have a Discord Channel! Join us and chat about the show, share a random or obscure VGM song you love, or just chit chat with Mike and Justin about tacos! Join for free here: https://discord.gg/zWxDYfn
Thanks to all of our wonderful Patrons: Alex Messenger, Cam Werme, Chris Murray, Chris Myers, Chris Hart, Scott McElhone, Jordan & Anson Davis, Llama Adam, Kung Fu Carlito, Nick Davis, Ryan McPherson, Marques Stewart, Brad Austin, Dan Laughton, Jeremy Rutz and The Autistic Gamer 89. Become a Patron, get cool rewards, and more at http://www.Patreon.com/XVGMRadio
Our Twitter and Instagram are great ways to interact with us! Find us on there under our handle @XVGMRadio
If you're an Apple Podcasts listener, please consider leaving a rating and a review to let us know how we're doing! It also helps with getting the show to show up when others are searching for VGM!
TRACK LISTING:
Intros – Adventure Island (NES – 1986) "Wild Plains" Jun Chikuma
– Wonder Boy (SMS – 1986) "Main Round" Ryuichi Nishizawa
1 – Super Adventure Island II (SNES – 1992) "On The Open Seas" Akihiro Akamatsu, Sachiko Oita, Shinji Nakaya
2 – Wonder Boy Returns/Remix (PC/PS4/SWI – 2019) "Boss Theme" Ryuichi Nishizawa arranged by Jong-bum Choi, Sukgil.Ham (Spotworks)
3 – New Adventure Island (TG-16 – 1992) "Stage 2-3" Keiji Sakata
4 – Monster Boy & The Cursed Kingdom (Switch/PS4/XB1 – 2018) "Green Fields" Keiki Kobayashi, Shinichi Sakamoto, Yuzo Koshiro, Keiki Kobayashi, Takeshi Yanagawa, Cédric Joder, Michiru Yamane, Motoi Sakuraba, Matt Creamer (16 Bit Track), Tee Lopes
5 – Adventure Island 3 (NES – 1992) "Boss Battle" Miyoshi Okuyama, Hirohiko Takayama, Gattuchan
6 – Wonder Boy III: The Dragon's Trap (SMS – 1989) "The Danger Zone" Shinichi Sakamoto
7 – Adventure Island: The Beginning (Wii – 2009) "Track 3" Yoshitaka Hirota
8 – Monster World IV (GEN – 1994) "Arabesque Court in Dream" Jin Watanabe
Podcast: Play in new window | Download